Technical plastics (PA, POM, PET)
Technical plastics can be characterized by good slide properties and high wear resistance. Consequently, longer lifetime and lower maintenance requirements can be reached.
The most important technical plastics we offer are as follows:
PA 6
PA 6.6
PA 12
PA 6 + Oil
PA 6.6 GF
PA 6 flame retardant
PA 46
Custom-manufactured products made of technical plastics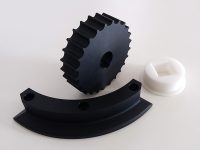 We prepare plastic products in accordance with the customers' needs with traditional machines and CNC milling stations. We can machine plastic sheets up to 1500 x 3000 mm with CNC technology.